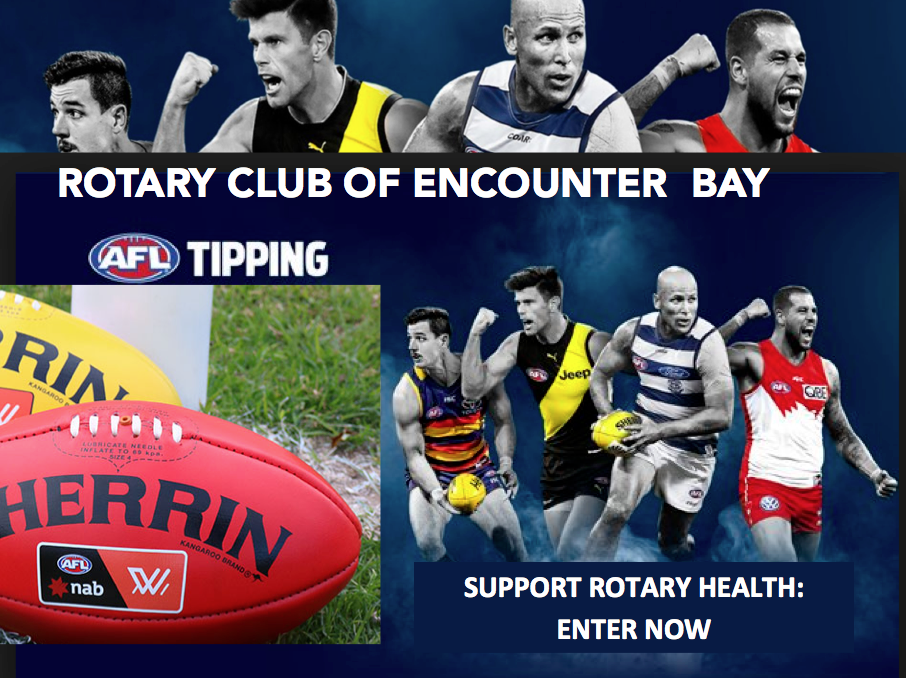 As you have probably heard on the news, the AFL recommences on 11th June.
The comp rounds have been adjusted & you can register your tips from today. We still have only 13 Tipsters & we need to increase that number to increase the prize pool. Try to talk your friends, or the dog you reaquainted with during lockdown to join the comp. Never too late.
Rotary Club of Encounter Bay AFL Footy Tipping Competition:
Your entry subscription will be $15, with $5 going to Australian Rotary Health (ARH) and $10 to the prize pool.
Click HERE and read all about it. Click on the "FAQ" tab to learn about the process.
Members who do not have access to the website can send their tips to the Competition Manager (Bob Sedunary),who will enter them for you (Tips are required 24hrs before the "Cut-off" time if you choose this option). Cut-off time for tipping will be 5 mins before every game of the round, in lieu of 5 mins before 1st game of the round.
Participants will score as follows:
1 point for tipping the winning team,
10 points for tipping a draw,
0 points for tipping a losing team.
You receive 5 bonus points if you tip a perfect round.
If you are un-financial or join later than beginning of Round 1, you will be allocated points as if you selected all "Away" teams.
The RCEB Competition will only be conducted on the Minor Round matches.
PRIZE Allocation



You will be asked to nominate the "Margin" in points of the first match listed in each round.
We will also have a "Joker" round which you nominate to double your points for that round. (Conditions apply).
The RCEB will also operate a "Knockout Comp" in conjunction with the "Tipping Comp", at no additional cost. Please read up on details.
The prize for the winner of the "Knockout Comp" will be "Bragging Rights" for remainder of season.
Members will be classed as "Financial" when Bob Sedunary has received their membership fee prior to the "Cut-off" time for the next Round.
The prizes for the "Tipping Comp" are:
Each Minor round winner: 2% of current prize pool.
1st (At end of Minor rounds) 25% of prize pool.
2nd (At end of Minor rounds) 15% of prize pool.
3rd (At end of Minor rounds) 10% of prize pool.
Last (At end of Minor rounds) 4% of prize pool.
SETTING UP



 Let Bob Sedunary know you wish to participate (pay $15) - email bobsedunary@bigpond.com
 Click HERE or on the logo that follows to be taken to the tipping website

 Click on REGISTER at the top of the page
 Once registered you can join the Encounter Bay competition. Start by logging in (top right).
 Our Comp Number is: 102085
Comp Name is: RCEBFOOTYTIPS
Comp Password is: Enc0unter19 – Yes the o is a zero.
Go to the tipping website each week to add your tips.