Books written by Encounter Bay Rotarians, translated into Kreyol - art work bu Haitians.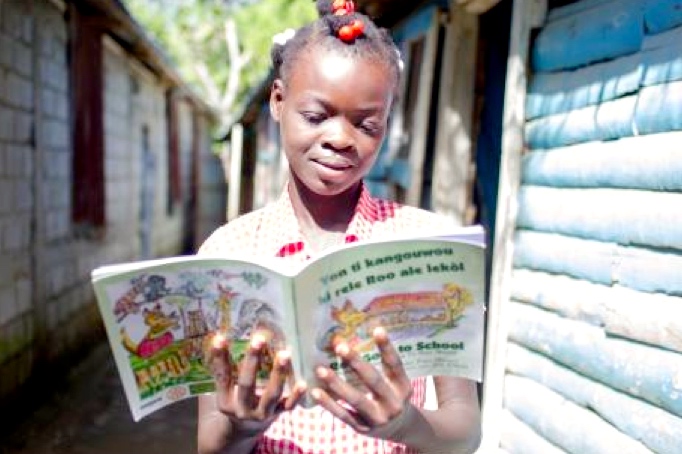 HAITI student reading in Creole a book written by Rotarian Peter Manuel of the Rotary Club of Encounter Bay
THE RCEB LITERACY PROJECT FOR HAITI.
THE BEGINNINGS:
In 2015 the RCEB President visited a sponsored child in Haiti and witnessed first hand the issues around poverty, corruption, unemployment, illiteracy and effects of natural disasters. He drew the RCEB club's attention to the many needs in Haiti.
Rotarians in South Carolina (D7750) were already looking for ways to address issues and dedicated Rotarians, librarians and friends formed a partnership group that focussed its efforts on the central plateau region of Haiti where the greatest need was evident. Literacy was seen as a key to bring about change.
Fortuitously Partners in Literacy, Haiti (PILH) advertised for children's authors and illustrators in Rotary Down Under. The RCEB had been given the rights to a children's book (Roo Goes to School), and had been selling copies to raise funds for Rotary International. They gave 750 translated copies of the book to Partners in Literacy, Haiti, who collaborated with other groups with similar ideals. This was the beginning of a much larger project employing a project specialist to translate and publish books by other Australian authors who were sourced by the RCEB.
THE PROJECT:
The RCEB agreed to write culturally inclusive stories which could be illustrated by Haitian artists to provide primary school Kreyòl books. These short videos tell the story from the perspective of the Rotary Club of Encounter Bay.
https://videos.files.wordpress.com/ZtSLqYSR/haiti-australian-book-project-1_dvd.mp4
https://www.youtube.com/watch?v=4Wo74rSgHGw
RATIONALE: While children learn best in their mother tongue, few primary level books were available in Haitian Kreyòl. To address this issue, PILH, encouraged by a conversation one day at the Haitian Kreyòl Academy, formed a Rotary International collaboration team to develop these books, while focussing their efforts to document alphabet charts, and document information to support teachers. The plan was to create books which give young readers the opportunity to encounter stories in their own Haitian Kreyol language with tales about their own culture. Books were produced and provided at free or low cost to libraries, schools, and centres.
The PILH volunteers were able to prepare materials and work alongside other Haitian organisations to provide training in sharing picture books and reading materials. Alphabet charts have been prepared for classrooms.
Dr Sara Mansbach has led this project with distinction from the outset, and despite political unrest, COVID, poverty and few resources, at least 5 schools, 40 teachers and 10,000 students in Haiti have already benefitted from the initiative. The project has been an excellent example of what can be achieved through international collaboration.
While the RCEB and district 9520 (now 9510) has been pleased to provide some annual funds and authorship towards this International project, the club is refocussing its efforts to International needs closer to home (Asian/South Pacific). It remains passionate about literacy for Haiti, and wishes PILH well as it continues its efforts.
Further Information on the work of PILH is on this link. https://haiti-literacy.org/