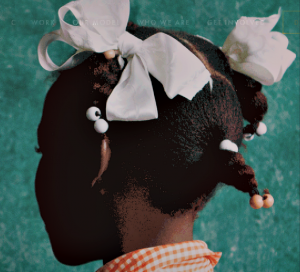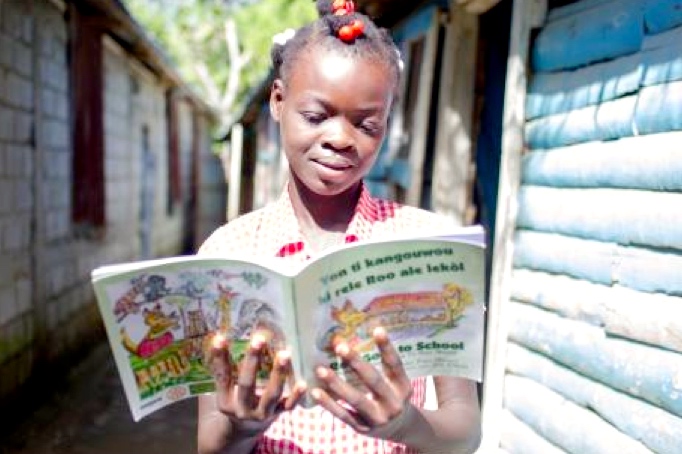 HAITI student reading in Creole a book written by Rotarian Peter Manuel of the Rotary Club of Encounter Bay
LITERACY PROJECT IN HAITI IN CONJUNCTION WITH 'Partners in Literacy Haiti',  and 'Summits Education'.
ROO GOES TO SCHOOL is a book written and illustrated by Dr Peter Manuel of the Rotary Club of Encounter Bay. Following successful local sales to raise funds for Rotary, it was translated into Creole, and 750 copies sent to the Cange library to train teachers, nurses and clergy in the Central Highlands. This Rotary project reaches some 40,000 children who otherwise do not have access to substantial reading resources. When a child could demonstrate that they could read the book, they were given a copy and encouraged to teach 5 others.
The RCEB  initial efforts followed Cyclone Matthew. The Rotary Club of Encounter Bay, through Dr Sara Mansbach of Rotary District 7750, has worked with Summits Education, providing $4500 AUD  and a District grant o $2000 to further literacy development in the central highlands. Summits is a Boston and Haiti based non-governmental organization operating a network of 40 primary schools serving approximately 10,000 students and 350 educators in Haiti's Central Plateau. Most families in this rural, mountainous region are subsistence farmers and live on less than $2 dollars per day. Summit and Rotary work in partnership with local communities and governmental entities to ensure that schools meet the needs of the whole child, promoting a school environment where each student is healthy, safe, engaged, challenged, and supported.
Over the past decade, important progress has been made to ensure that children have access to education and school attendance rates have increased significantly with a leap in new infrastructures nationwide. However, despite the efforts of the Haitian government and partners, the impact on school quality is still limited in terms of student achievement, teaching practices, and educational facilities. Dire needs are not met such as water, sanitation and canteen programs, and the Haitian education system suffers from persistent dysfunctions such as weak governance, poor teacher capacity, insufficient and inappropriate infrastructure, lack of instructional materials, outdated curriculum and instructional practices, and low primary school completion.
Conscious of these issues, Summits has engaged all its resources to support the efforts undertaken to improve the Haitian education system and improve students learning outcomes in the communities we serve. Summits and Rotary are not just another Non Government Organisation doing business as usual. Where others see obstacles, we see opportunities. We partner with the Ministry of Education to reinforce the quality of the public education offered in the Central Plateau and we unite with a coalition of partners to ensure efforts are impactful and sustainable.
THE FUTURE
Our current resources are to support the provision of fold out libraries in every classroom in each of the 40 Summits primary schools to promote 15 minutes of leisure reading each morning. The book Roo Goes to School will be part of this important initiative along with other literacy materials provided.
These fold out libraries are part of a broader effort to improve learning outcomes for our students. In the next 3 years, through a collaboration with University of Notre Dame and the Rotary Club of Encounter Bay, Summits Education aims to specifically improve reading skills of 1st to 3rd grade students in Creole and French and decrease the proportion of students unable to read by 3rd grade.
THE NEXT PHASE:
The RCEB members have undertaken to write 8 books for translation into French and Creole. They will be illustrated by Haitian artists who will be paid an honorariaum for their work. Again PILH will coordinate the program and the distribution of books. We have engaged Dr Milady Auguste of Haiti to be our feet on the ground and work with artists.
Click HERE for a 2.39 minute video. Click HERE to meet Dr Milady Auguste in a short video